Creating the Perfect First Impression
In this world of instant gratification, buyers want to walk into a home or condo and feel like they can return with their suitcases, simply unpack, and enjoy their new space from day one.
At Grace & Co., we understand that. So when we assist our sellers by providing potential buyers with that experience, we sell their home or condo for more money, quickly – just what most sellers want!
Our listing agent and staging team put together a tailored plan for every one of our clients' homes. Sometimes the only requirement is a thorough declutter; other times, we are replacing some of the client's art and furniture with our inventory. And sometimes, as in the townhome in this article, our clients have already moved and are giving us their property vacant, so we stage it from top to bottom.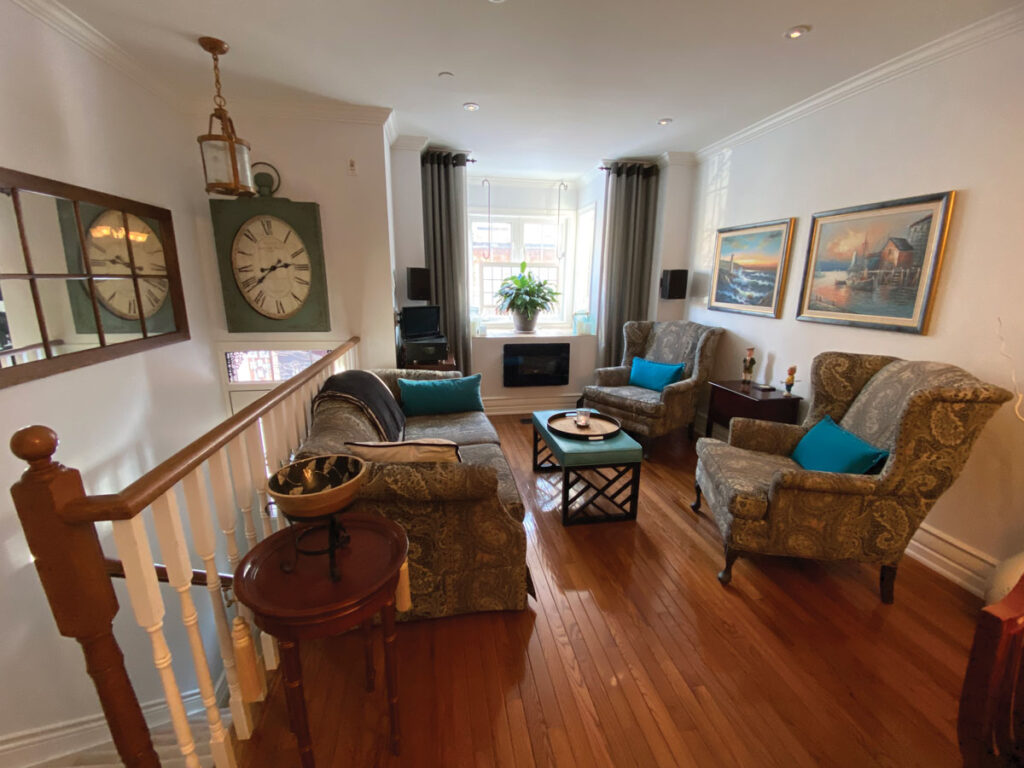 There are two main goals when staging your property.
Firstly, our team wants to ensure that every room in your home is utilized to its full potential. Often, a bedroom is used as a den or home office, but to maximize saleability, we always prefer to transform that space back into a bedroom. During COVID, for example, we looked at how people's interaction with their homes was forced to change, so we began looking for ways to showcase an area in the home for working out as well as a convenient space for working from home.
Secondly, we want to ensure that a buyer falls in love within the first seven seconds of browsing your home online to increase the chances they will book an in-person viewing. Real estate purchases are often led by the heart, not the head, so we want the furnishings to complement or elevate your space. When looking for top dollar for your home, you need to provide an experience similar to a new home sales centre – a clean, well-lit space with furnishings, art, and accessories that could be from your buyer's favourite shop and even some subtle music playing in the background! It's not enough for a buyer to like your home; they have to fall in love with it.
Our featured staging is of a three-bedroom townhome just west of the Beach. Spurred by retirement, our clients wanted to move to Cobourg (where we connected them with a great Realtor) and naturally wanted to realize every single dollar they could for their home in Toronto.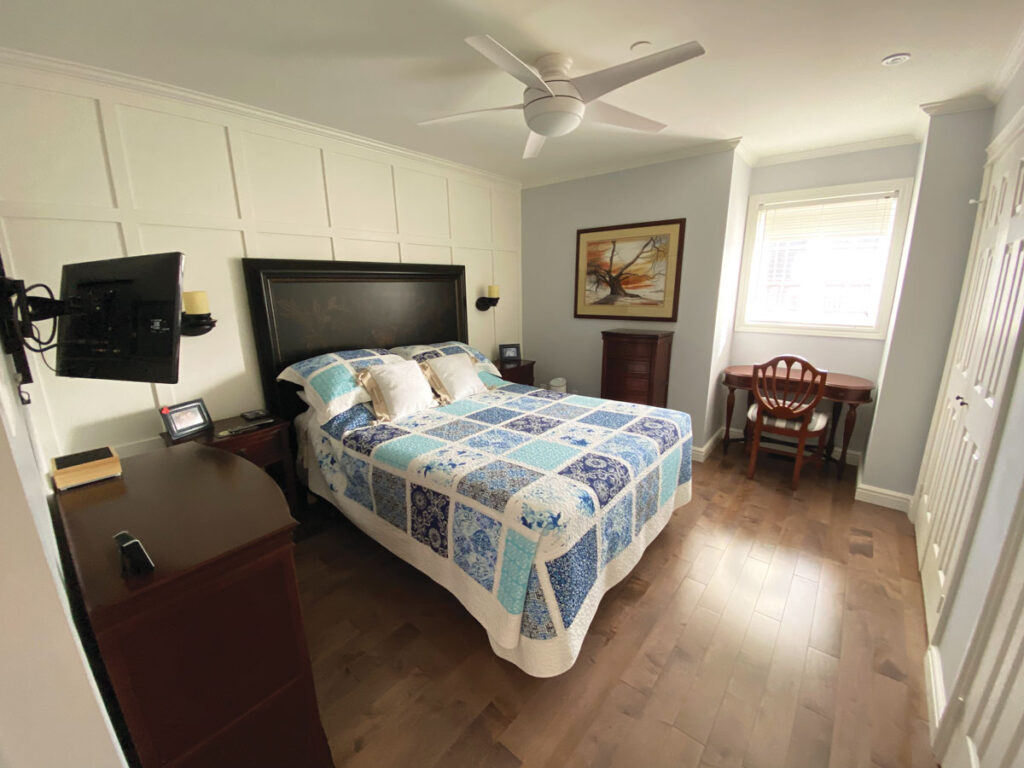 Our clients were nervous because a neighbouring townhouse in their development had sold last Fall, by another Realtor, for considerably less than they had anticipated. We had seen this happen in this development in the past and assured them that if presented properly, we would be able to get them much more for their home – as we had for four of their neighbours in the past.
They took advantage of our Designed to Sell program and replaced the carpets in the second-floor bedrooms with hardwood. Then we turned our focus to a full stage.
Before they moved, their furniture was well-scaled to the size of their living and dining rooms, but it didn't appeal to the 30-somethings who were likely to be the buyers of their home. So, we ensured that the furniture, art, and accessories that we styled the home with would help convey the perception that this 20-year-old home felt newer than it actually was.
Because it was only two people living in a four-level, three-bedroom home, a large second bedroom had been set up and used as a media room, and the smaller third bedroom was a home office. We ensured to show both those spaces as serene bedrooms – with the larger of the two accommodating a queen bed and the smaller set up with playful décor, as many purchasers of these towns are coming from condo living where they have outgrown their space due to the addition of a new family member.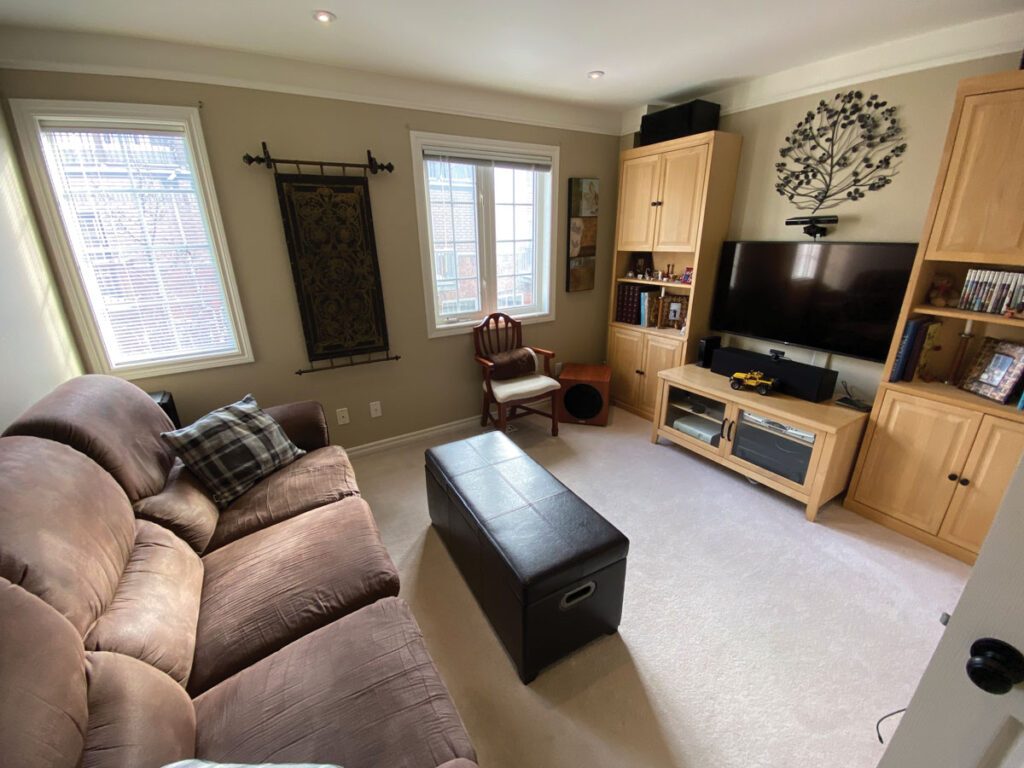 Our clients were thrilled with how their home looked and even more thrilled with the result we achieved for them! One of their neighbours had sold the week before, with six competing offers. We secured nine buyers for their home and beat that last sale by $110,000! And that neighbouring sale that they were worried might drag down their value… we beat it by nearly $350,000!!
At Grace & Co., we realize that home décor is akin to fashion. Each season brings new styles and trends. And furniture, like clothing, can dip in and out of style every few years. Homeowners cannot be expected to keep up with popular colours and the latest design innovations. But, with the help of our staging team, you can update the style in your home with ease and at no cost! At no cost, we style your home with the furniture, art, and accessories found on the pages of your favourite interior design magazines, making each one of our clients' homes magazine-worthy!
Sometimes, our clients don't need or want staging, and that's totally fine with us. Staging isn't a requirement to hire Grace & Co. But, if you would like to explore how our team can transform your home to help you achieve top dollar in as short a time period as possible, drop by our office at Queen & Wheeler, give us a call at (416) 699-9295, or email [email protected].
---
To view more of our before and after galleries, visit www.gracehomes.com/staging.