Life Is Better By The Glampfire
By DC Rutherford
A lifetime ago, I spent a winter camping in Costa Rica. Four months in a one-person tent with no pillow, no mattress, but the occasional scorpion. Sleep was hard, but the views were spectacular. At the season's end, even the ruggedness of a San Jose hostel seemed luxurious. And I haven't been camping since.
Recently, a friend asked if I have a favourite camping spot, and my answer was an unwavering: the Four Seasons. But they hadn't inquired about my camping preferences—I misheard. Instead, they wanted to know where I glamped. Glamping, I'd discover later, was the ultimate marriage between my love for the outdoors and my middle-aged back. It keeps the kids happy and mosquitos to a minimum.
Glamping, to the uninformed, is hosted camping where your site and tent are set up for you and come complete with all the luxuries you could ever want, from ensuite bathrooms and kitchens to king-sized mattresses and climate control. This isn't a KOA weekend but rather an outdoor Four Seasons for all seasons. Enjoy this article as we bring you our favourite Ontario glamping spots.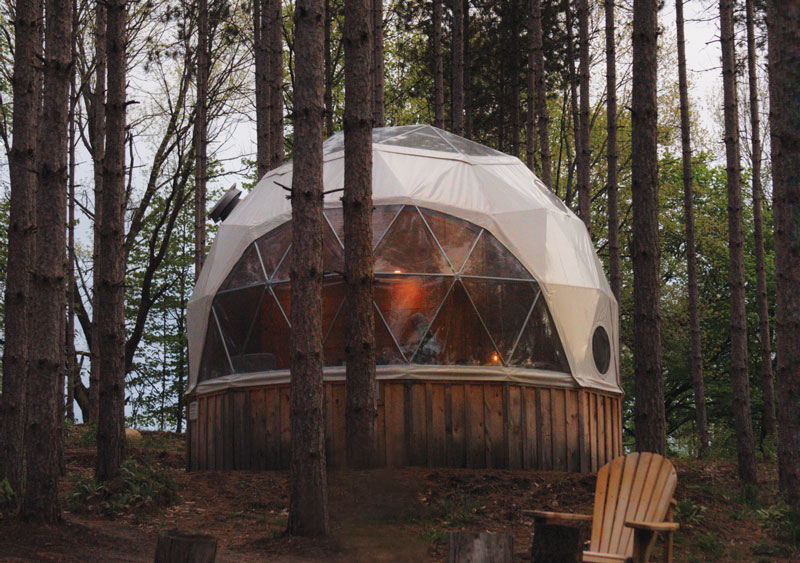 Glen Oro Farm
2574 Line 10 N, Hawkestone, ON | glenoro.com
On the northwest shores of Lake Simcoe sits Oro-Medonte, host to one of the region's landmarks: the Glen Oro Farm. The farm offers, in addition to being an equestrian and wedding venue, luxury glamping experiences rooted in sustainability and ecological responsibility. Private chefs, ensuite bathrooms and kitchenettes are just a few of the extravagances that will build a perfect escape.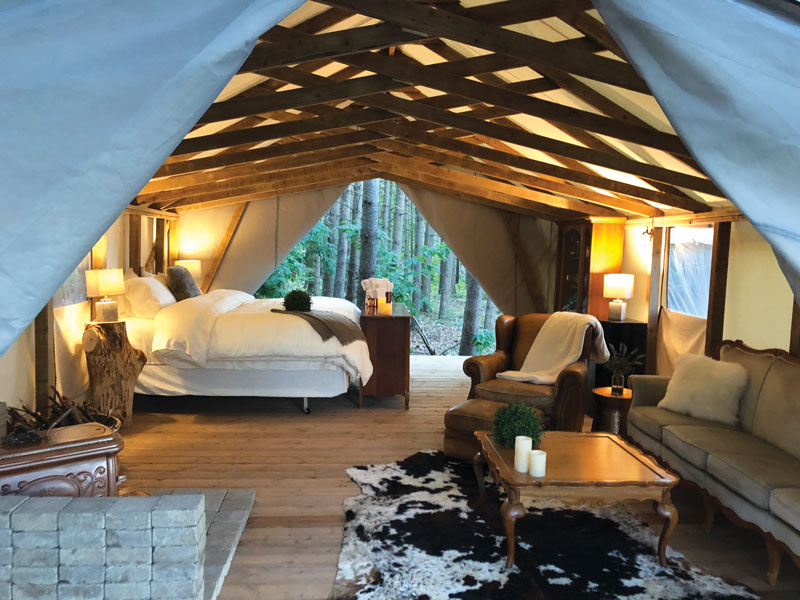 Alabaster Acres
18692 Hurontario St, Caledon Village, ON | alabasteracres.com
City life can be suffocating. That's how Allison Alabaster felt "a few years ago, over a bottle of wine with a friend" when it occurred to her what should now occur to you: the quiet is never that far away. That's what Alabaster and her family found in building Alabaster Acres, a working farm less than an hour from Bay Street, offering glamping complete with workshops and fresh-from-the-farm goodness. A one-of-kind-venue is the ultimate respite for weary urbanites.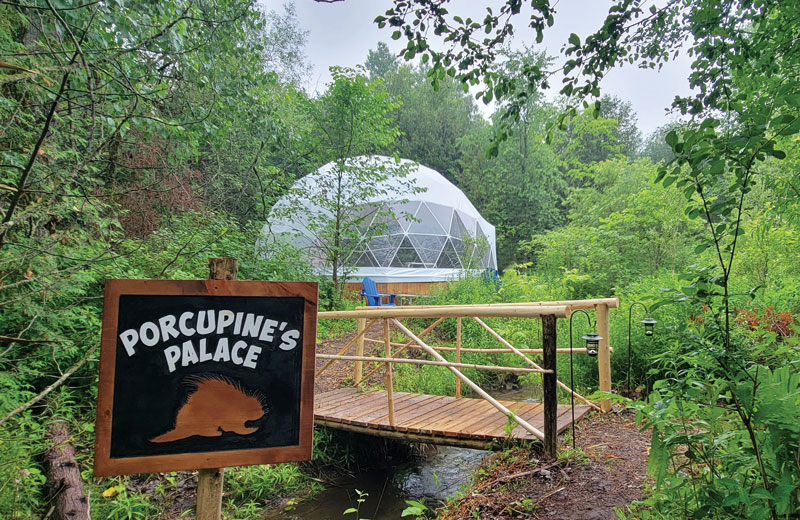 Soper Creek Wilderness Villas
6706 Gibbs Rd, Clarington, ON | sopercreekwildernessvillas.com
Three yurt-style bell tents and a geodome, each outfitted with beds, lights, solar power and more, set this glamping experience apart! Nestled into the Oak Ridges Moraine, this 12-acre marvel just an hour from Toronto offers a communal firepit with lounge chairs, covered gazebos and picnic tables, an outdoor propane fire table, and a covered BBQ area. Guests also are treated to a tour of the Soper Creek Wildlife Rescue.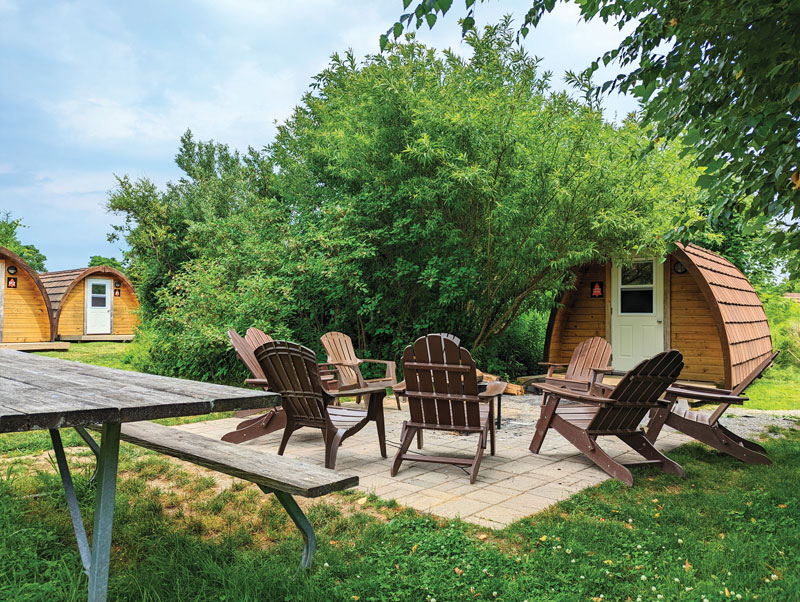 Long Point Eco-Adventures
1730 Front Rd, St. Williams, ON | lpfun.ca
A mainstay of Ontario nature experiences, Long Point Eco-Adventures is preparing for a big 2023 of glamping. In addition to their current seven lodging options (from luxury tent to pod to farmhouse), the venue is adding two brand new boardrooms for meetings and events, an all-season restaurant with multiple patios, and much more. Plus, the property already boasts an observatory tower, zip-line course, axe throwing pits, kayaking, and over 90km of hiking and biking trails!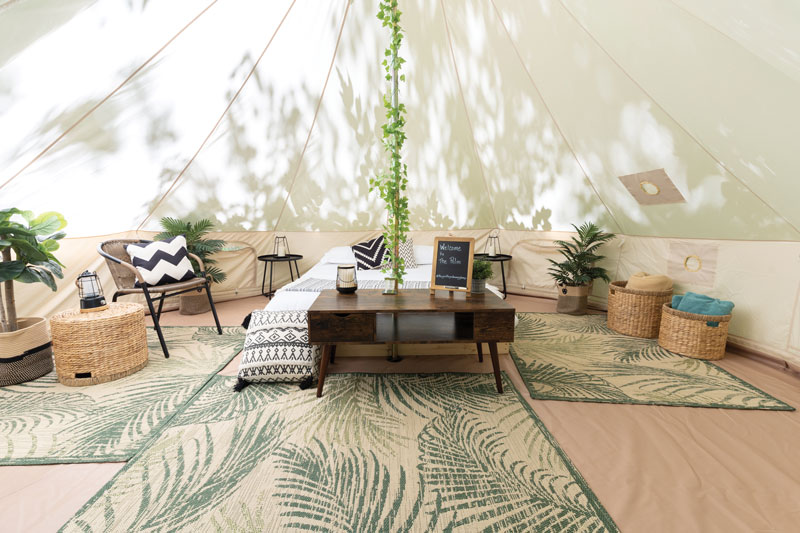 Grotto Getaway
4510 Hwy 6, Miller Lake, ON | grottogetaway.com
Just three hours north of Toronto, there's perhaps not a more perfect spot to glamp your weekend away. Grotto Getaway offers themed tents with luxury mattresses, lanterns, indoor seating areas, outdoor seating areas, and an outdoor firepit. Scuba diving for long-lost wrecks in Tobermory and hikes along the infamous Lion's Head trail are just a stone's throw away. There's even an RV for those not into tents, no matter how luxurious.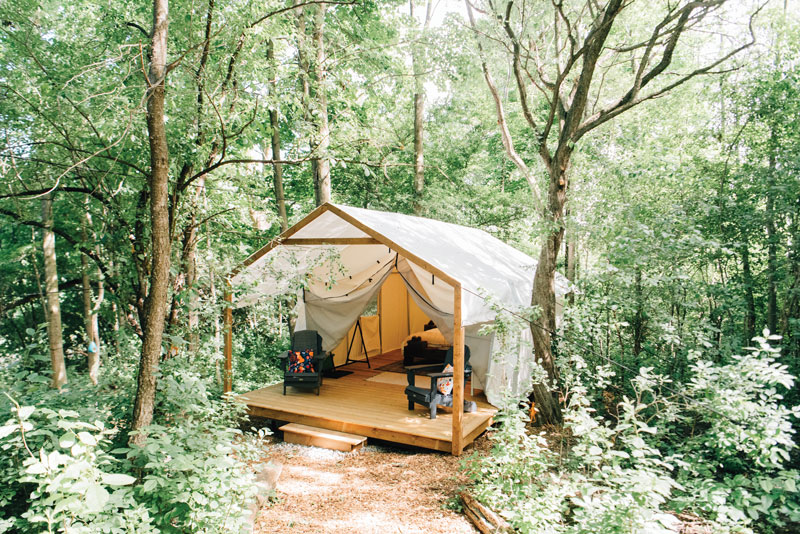 The Fieldstone Barn
7450 Middlebrook Rd, Elora, ON | thefieldstonebarn.com
With four luxurious glamping setups available from May through October, The Fieldstone Barn is not to be missed. Each has its own hot tub, picnic table, and covered porch, plus a private toilet. At night, curl up in Muskoka chairs by the firepit under the stars, and during the day, pop into Elora and the area for shops, nature hikes, and more.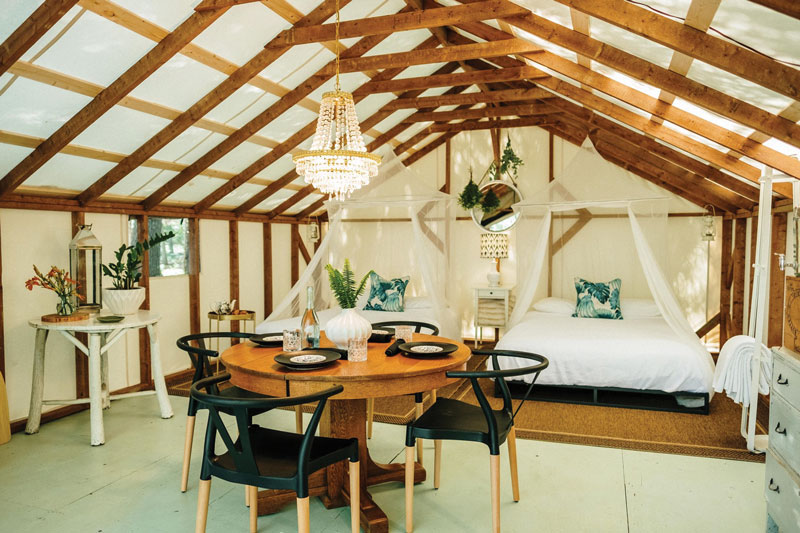 The Northridge Inn & Resort
712 S Lake Bernard Rd, Sundridge, ON | northridgeinn.com
The Northridge Inn & Resort is more than a glamping hotspot—it's a destination. Besides their renowned lodging and dining experiences, Northridge offers beautiful luxury tents straight out of your Instagram feed, along with a newly renovated 1971 Vintage Airstream complete with stunning views of Lake Bernard from your private porch. Plus, all of the amenities are available to the resort's guests, but with the bucolic splendor of a campsite setting.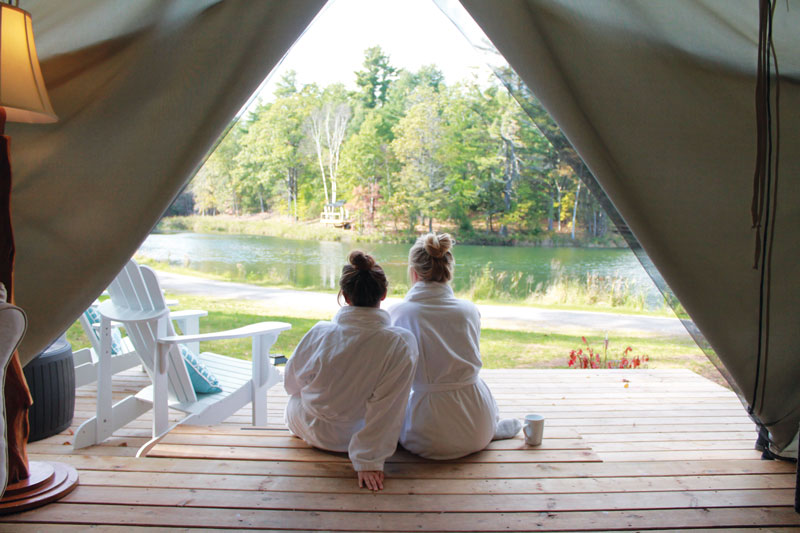 Whispering Springs Wilderness Retreat
141 Mercer Ln, Grafton, ON | whisperingsprings.ca
Just 90 minutes from Toronto, Whispering Springs Wilderness Retreat is calling your name. Offering four options of glamping tents inspired by the prospectors of yesteryear, plus treetop tents and cabins, this unique resort turns back the clock while maintaining the luxury of the present. Plus, this year's Camp Moonlight initiative will host children with disabilities and their families. A truly inspired and inspiring endeavour.