When I was a kid, there was nothing I loved more than cheese and crackers. While other elementary schoolers reached for candy or potato chips, my go-to after school snack was a St. Albert sharp cheddar and Premium Plus saltines. When my parents hosted parties, the snack was elevated; giant boards with hard salamis, patés, pitted olives, extravagant crackers and fresh baguette, and—of course—cheeses that I believed only existed in my dreams. As I've gotten older, the reverie of fromagerie has become a reality.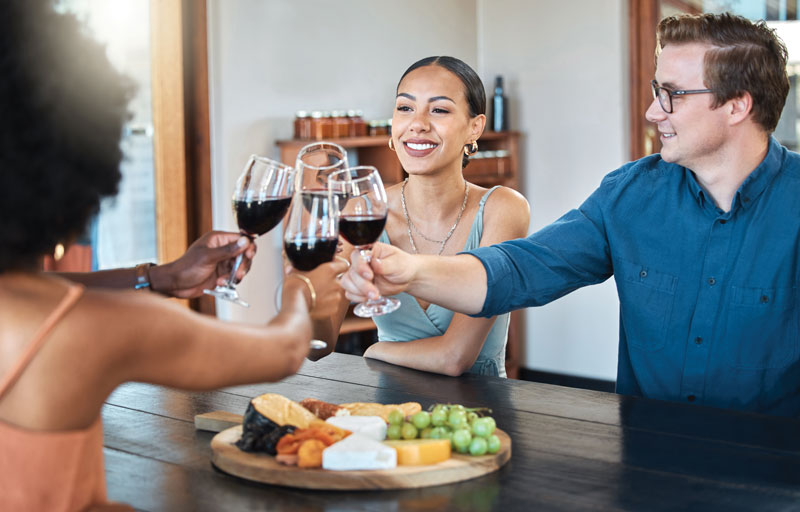 Charcuterie itself has been elevated by this generation of gourmands as a multitude of cheeses, meats, and bread became more readily available in specialty shops and local grocers. Restaurants have made well-curated cheese boards a staple of their menus, often highlighting local producers, farms, and artisans, promoting a farm-to-table aesthetic. And in a city renowned for its progressive culinary scene and discerning enthusiasts, charcuterie is front and centre at Toronto restaurants, galas, and gatherings.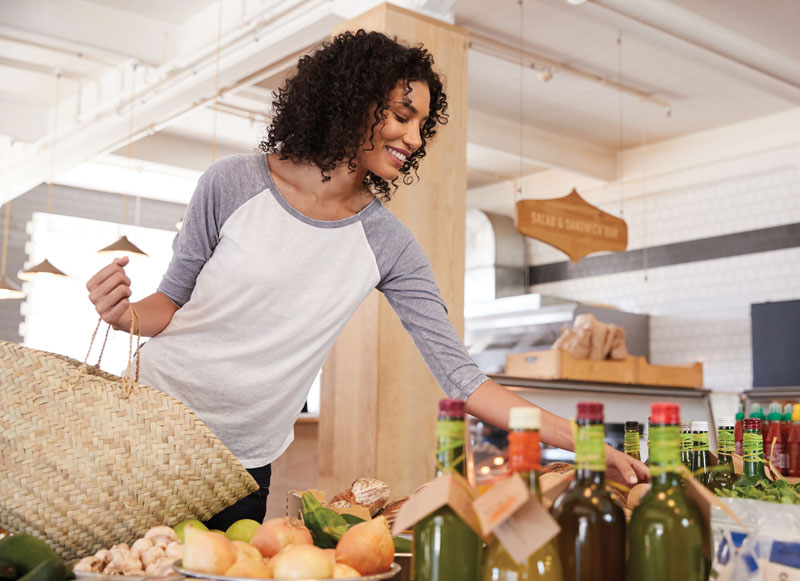 Our neighbourhoods are often defined by their cultural and culinary engagements, and The Beach and its surrounding boroughs are no different. A tour of its offerings suggests that the best charcuterie boards in the city are curated in the east-end communities. Corbin Catering and Foods is a perfect first stop at the east end of Kingston Road. At this bespoke catering company, Chef Corbin Tomaszeski and his staff are well-known for outstanding service levels, creative cuisine, and attention to detail leading to a success "built on the meaningful relationships with our team members, vendors, partners and clients." Along with the catering options, which are seasonal, occasion driven, or for a private gathering, their fresh market boasts the finest in charcuterie boards and everything that completes them. The team will collaborate on designing the perfect event, punctuated by charcuterie for the ages.
Next up on a charcuterie connoisseur's tour of the east end would be Tony and Claudia's on Fallingbrook, where you'll find catered charcuterie, hot and cold meals, homemade entrees, and unforgettable pasta and sauces. Browse the luxury coffees such as Lavazza, Icaf – Elite Novegrani, Oro 31 Italian Espresso coffee beans, Danesi Gold espresso, and selections from Peru, Kenya, and the Toronto staple's own private blends. Their selection of fruits, extra virgin olive oils, and vinegar will act as the perfect complement to a catered charcuterie. Spoil yourself and your guests with a Charcuterie Deluxe catered 12″ or 16″ tray, including unforgettable meats, cheeses, olives, and garnish.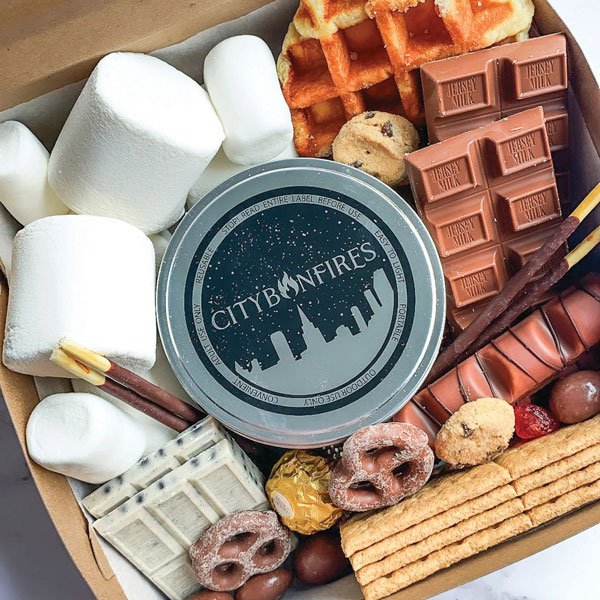 We don't always have the time to build and design our boards, and that's where The Graze Anatomy and The Crave 6ix aspire to fill the void. The two charcuterie experts offer unique boards tailored to your events and tastes. When you open a Graze Anatomy box, you are presented with alluring designs and scents, highly styled culinary accomplishments and charcuterie boards delivered across Toronto daily. The Crave 6ix, Toronto's luxury charcuterie boutique, prepares high-quality charcuterie boxes topped with sweet macaroons, decorative flowers, and exotic fruits. The selection includes a breakfast, lunch, and dinner option, as well as a vegan box. They have a box for every mood and occasion, and the gorgeous design will pair beautifully with any décor or theme.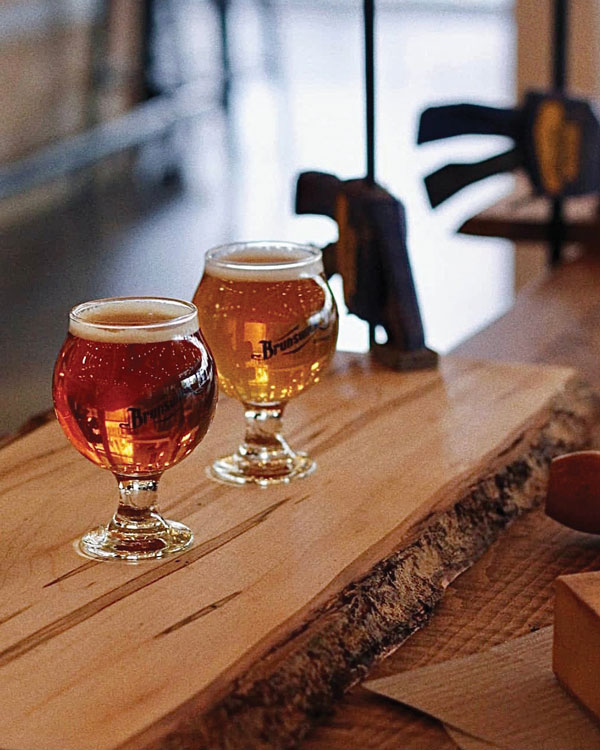 Charcuterie boards, like any work of culinary artistry, are crowned by their presentation, including the actual board itself. Taking a workshop at Brunswick Bierworks will include a take-home board, but having a collection of sizes will allow you to create several smaller boards, themed boards, or boards for different occasions. Shop local to find incredible live edge boards and accessories complementing your collection. Stopping next along Kingston will reveal local shops like Collected Joy, before dipping down to The Curated Market Co. on Queen East for all things house and home, homemade gifts, and unique items for all ages like conversation-worthy kitchen accessories, individual gift items, or inspiring art to add to your collection. 
But the board is simply the canvas—in order to perfect charcuterie, you need the very best of what Toronto culinary suppliers have to offer. Exploring the neighbourhood to source the most delicious and unique cheese flavours will yield the best the city has to offer. At the Alex Farms Beach location, you will find selections from all over the world: French cheeses like moist and rich St. Agur blue, known for its subtle mild spicy taste, and creamy Ossau Iraty made exclusively from raw sheep's milk. There is a wide selection from Italy, the UK, Spain, Netherlands, and beyond, as well as Canadian treasures Five Brothers' hand-crafted washed rind cow's milk combining Gouda and Swiss traits, delicately aged
on cedar planks. Alex Farms also carries olive oils, crackers, jams, and a delightful selection of coffee to perfectly balance your offerings.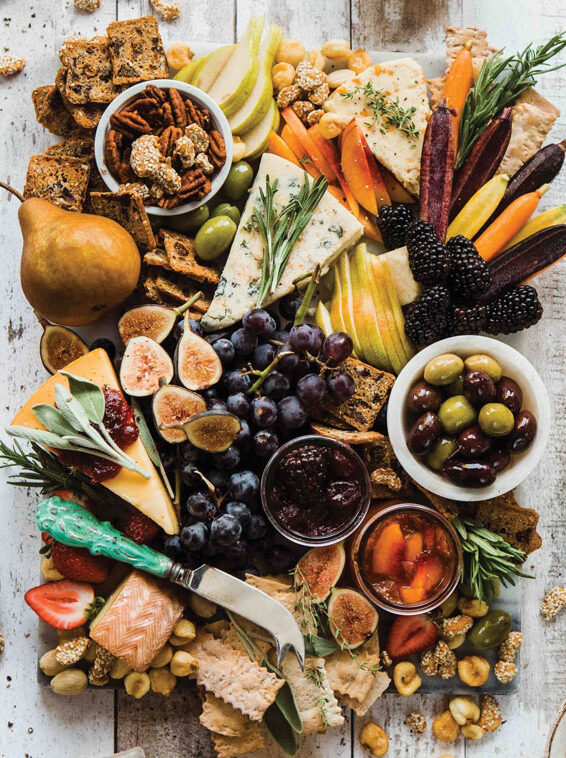 No charcuterie curator's east-end tour is complete without a stop at Leslieville Cheese Market and Fine Foods. The meat selection provides a colourful array of choices to spice up your board; classics like Black Forest hams, chicken liver paté, and smoked turkey breast mixed with German mustard seed salami, Hot Soppressata, and German Paprika Salami. To stay on top of your cheese education, sign up for the Cheese Club to sample various cheese options monthly and always have something new to share. For a truly unique wedding option, opt for a cheese wheel wedding cake. This will keep your guests amused and delighted as they sample from each tier.
But the east end doesn't have a monopoly on our readers or our cheeses. Many of us relish escaping the city, heading up to Collingwood or Muskoka, and there's no reason that our appetites for charcuterie can't be satiated closer to our vacation homes. Muskoka Charcuterie Co. in Parry Sound is well-known for its beautiful pre-designed boards, ready for your weekend in the woods. Marmalade & Co. in Collingwood boasts boards "inspired by memories of great friends, family and fabulous food" that allow locals and visitors alike to "indulge in an array of locally sourced artisanal cheeses and cured meats alongside a selection of international delicacies, all accompanied by our very own preserves, spreads and biscuits." And Eat. Graze. Cheese., another Collingwood staple, prides itself on extraordinary custom boards that blur the lines between art and cuisine—plus a selection of candy for sweet teeth.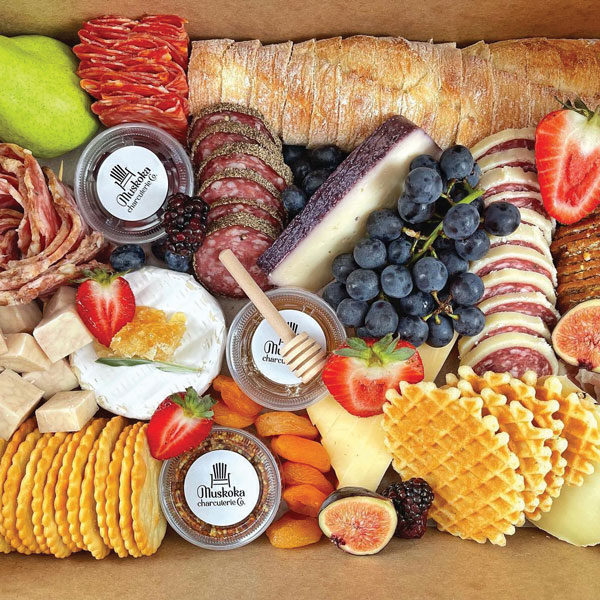 Toronto is often referred to as "the most diverse city in the world" and the intersection of diaspora has made the city the envy of gourmands the world over. The manifestation of this luxury can be found in building or buying charcuterie in the city's east end and beyond, where boards are buoyed by a thriving and engaged community of culinary delights. Next stop is your next dining event.