A Rare Opportunity for Luxury Living in Industrial Elegance
Our city boasts a rich history of turn-of-the-century industrial buildings, and as manufacturing moves away from the core, a handful of these beautiful post-and-beam properties have been converted into stunning residential lofts.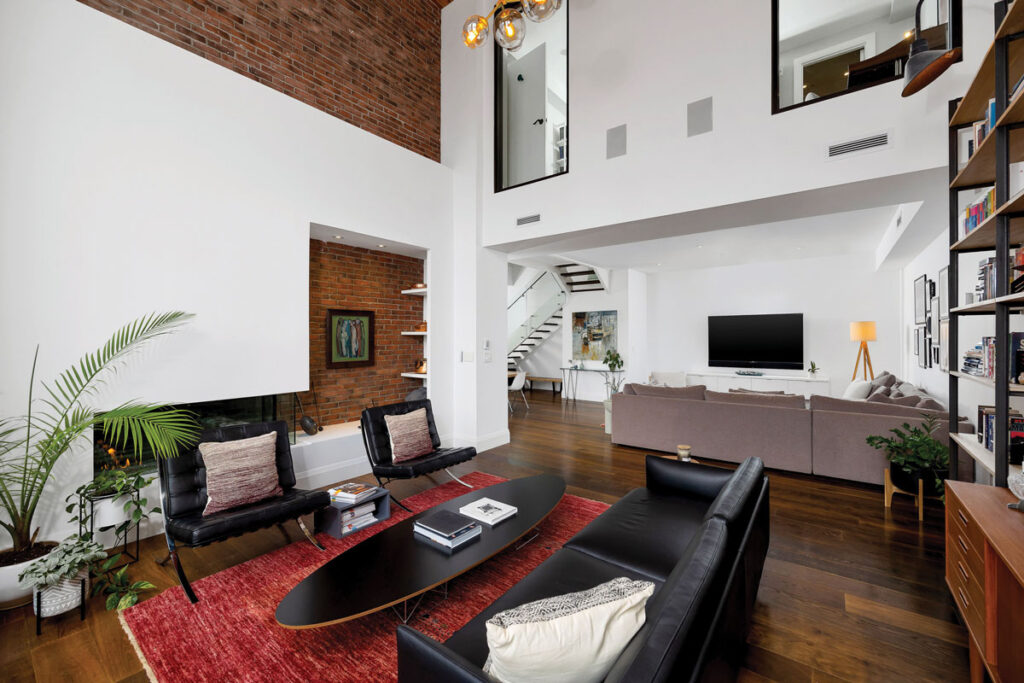 At some point in the lives of most Torontonians, they have dreamt of living in a hard loft. Iconic buildings such as the Toy Factory, Tip Top Lofts, and Broadview Lofts offer such an opportunity!
Over a decade ago, we helped a family sell their home in Woodbine Park and make the move to Ottawa. With a keen eye for design, they settled into a beautiful Barry Hobin-designed home in the Glebe and began raising their children. But, one by one, as the kids grew up, they migrated back to Toronto until our clients found themselves empty nesters in a home larger than they needed and a four-hour drive from their children. When they decided to return to Toronto, they wanted to scratch an itch they had always had – living in a hard loft conversion with worldly character and charm. However, given their keen eye for design and fine finishes, a builder-level suite wouldn't suffice. Now, they are moving on, and there is a rare opportunity to own one of the most significant lofts in Toronto.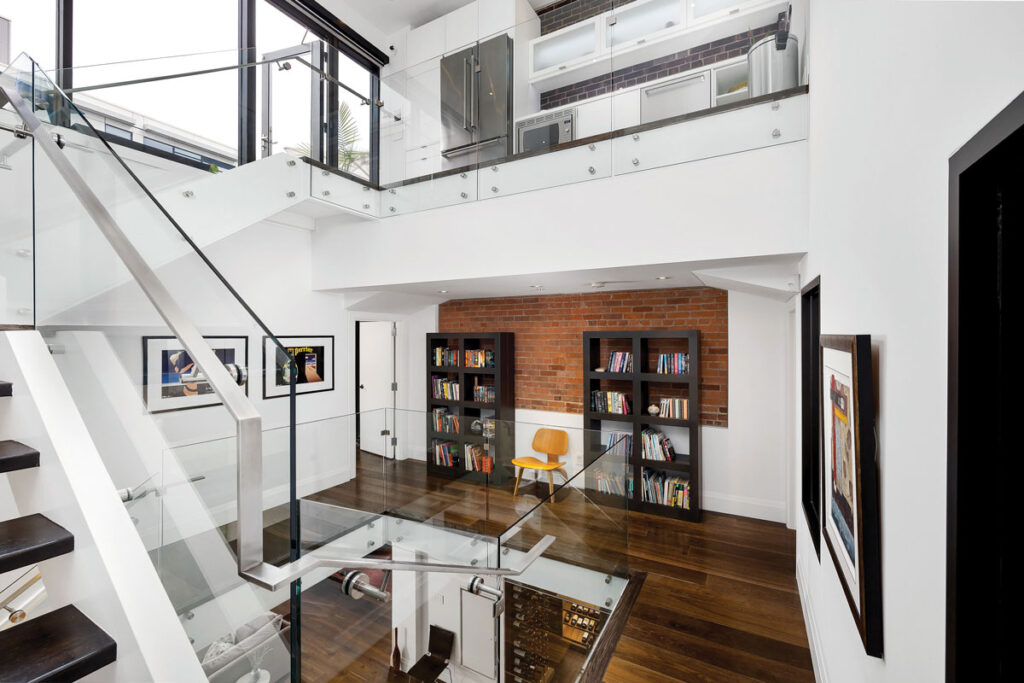 This residence is one of a collection of five suites in the Toy Factory, originally the home of the Irwin Toy company, that were held back from initial sales. Each was custom-designed and offers stunning rooftop terraces. With 3,175 square feet of interior living space, this property is the largest in the building and lives more like a home than a condo.
The original owner, an early Facebook employee, spared no expense when he gutted the suite back to the bricks and invested two years and well into seven figures to bring his dream to reality. Every fixture in the home is of the highest quality, down to the smallest details such as the light switches and receptacles.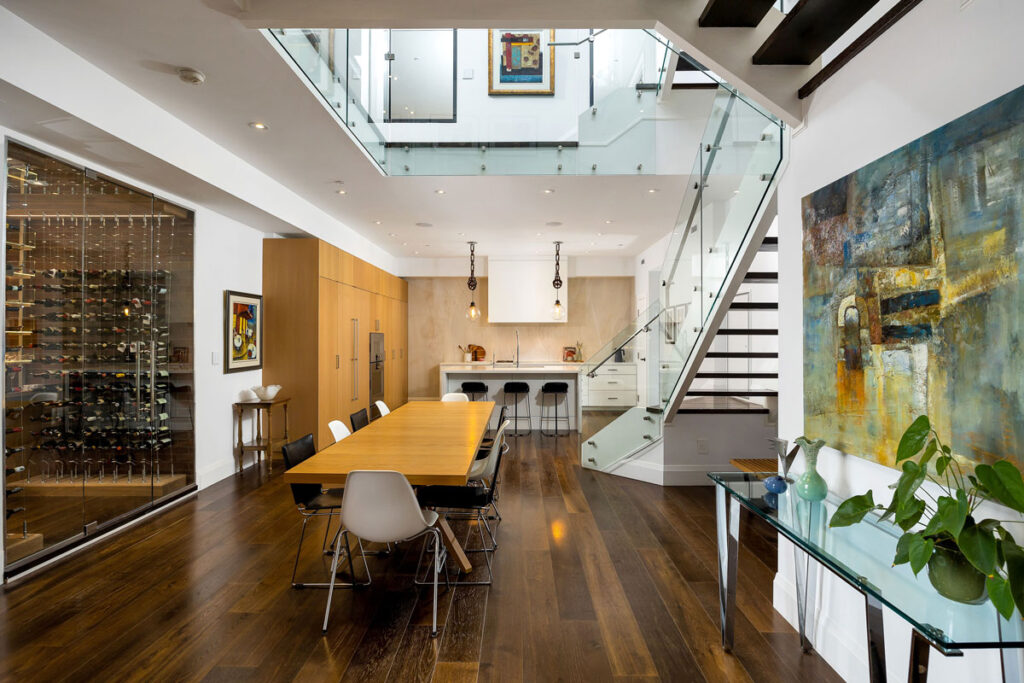 In the heart of the suite is a dining room large enough to seat 12 or more, with a wraparound staircase that climbs 30 feet to an operable skylight, flanked by a custom-designed and temperature-controlled walk-in wine cellar. It's the perfect space for entertaining guests or enjoying meals with the entire family.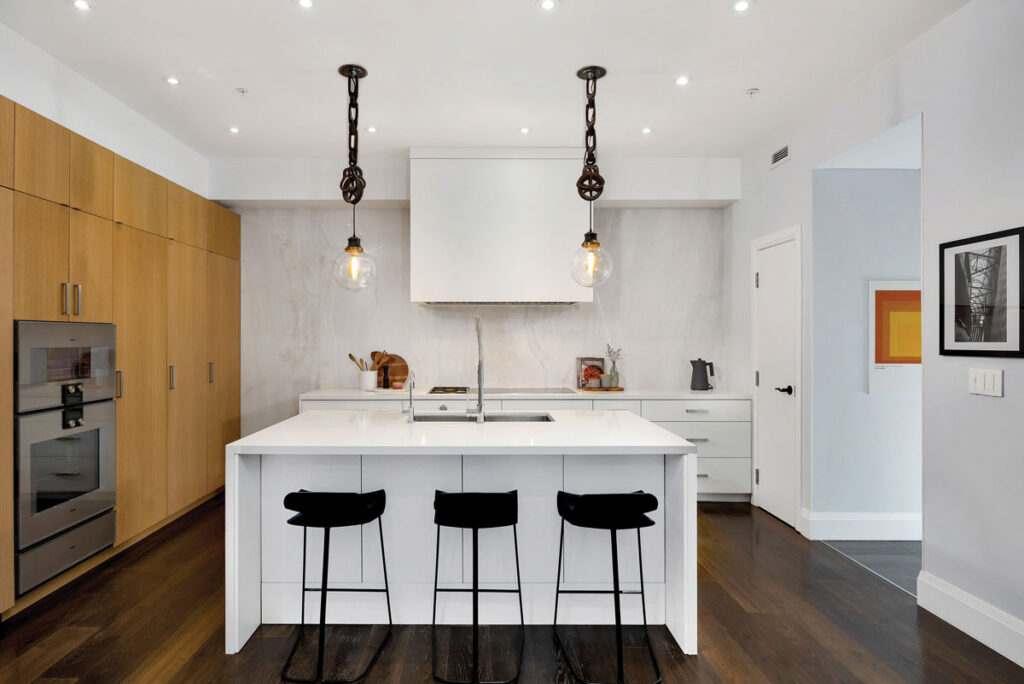 The clean and contemporary kitchen boasts a feature wall clad in natural stone imported from Europe, housing a $70,000 Gaggenau appliance package, including a convection cooktop with an accompanying gas wok burner, side-by-side panelled fridge and freezer, a panelled dishwasher, and a cooking stack including a convection oven, steam oven, and warming drawer. The island houses a double sink with a traditional faucet as well as a filtered bar faucet, and there is a full walk-in pantry.
Beyond the dining room lies the television room – the perfect place to cozy up and watch your favourite series. Off that space awaits the great room. This space features 21-foot wood-clad ceilings with brick walls, massive windows that flood the room with light, and a DaVinci gas fireplace.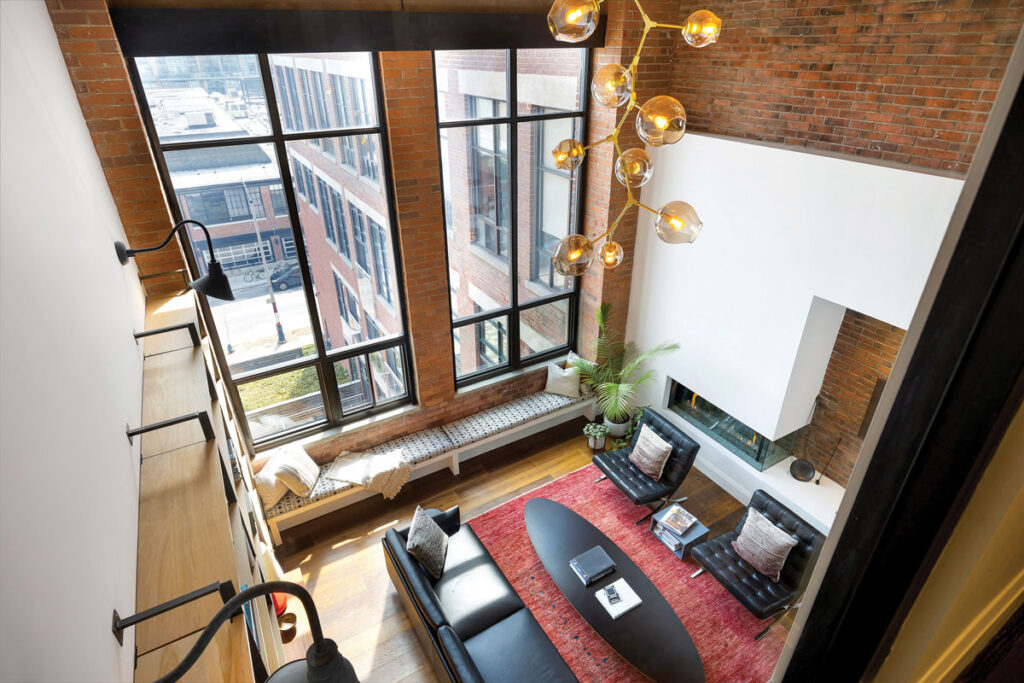 There are a total of three bedrooms – each with an ensuite bathroom – as well as a powder room for guests. The primary suite features exposed brick, a skylight, and a stunning walk-in closet that leads to the seven-piece ensuite bathroom, which also features a skylight, free-standing tub, double shower, and water closet.
Make your way to the third level, and you will find a wall of glass with a walkout to the rooftop terrace, which is clad in ipe wood decking and features an outdoor shower, a Bullfrog hot tub, a natural gas BBQ, and a lounge where you can catch glimpses of planes coming to and from the Island Airport. Just inside, a full kitchen means no need to trek down to the main kitchen when cooking and dining al fresco.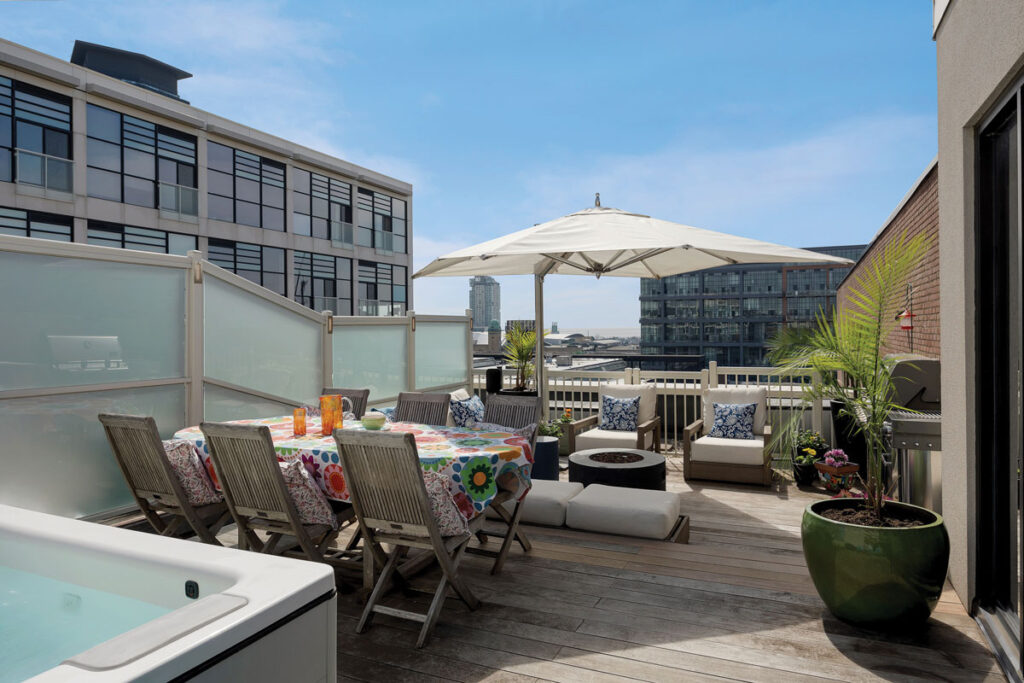 The entire residence, inside and out, is run on Savant – a high-end audio-video app on your phone that controls all the televisions, built-in speakers, lighting, window coverings, and more. You can customize each room to your current mood and build out preset scenes.
We would be remiss not to mention the two-car side-by-side parking and extremely low monthly maintenance fees, just a hair over $1,000 per month.
If you have been craving the convenience of condo living but have had a hard time wrapping your head around downsizing or haven't found an inspiring space that you can see yourself calling home, this is the one!
Click here to view more photos, explore our 3D virtual tour, and much more!