Savouring Fall with Sebastien & Sheila Centner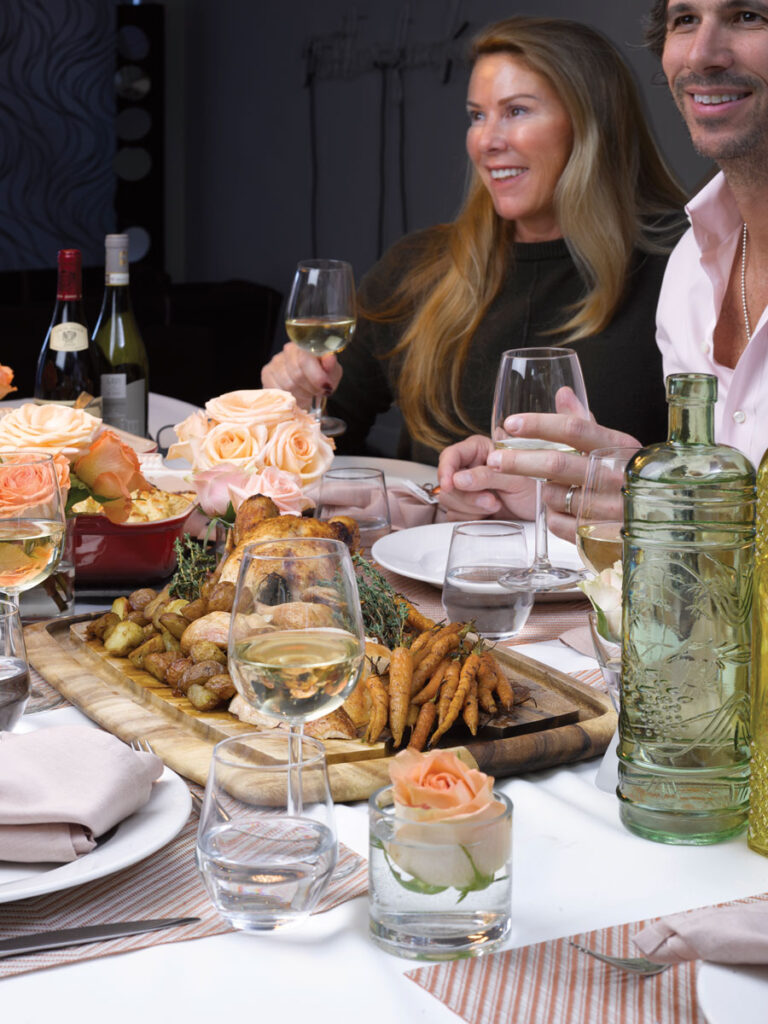 Any time of year is a great time to enjoy comfort foods – but of course, there's nothing like the Fall season to ignite those cravings. For many of us, the smell of freshly prepared roast chicken reminds us of relaxing nights and home-cooked meals shared with loved ones. Though some may reserve roast chicken for the holidays or special occasions, there is no reason that such a simple, yet delicious meal can't be a staple in your family's dinner routine!
One of the great things about comfort foods is they never go out of style. A meal like roast chicken always seems to be a crowd-pleaser across a variety of ages and palates. In addition to being a family favourite, roast chicken is an affordable and easy-to-prepare meal that doesn't require many ingredients or preparation. One quick trip to the grocery store and you're all set.
When setting the table for a comfortable meal, it can sometimes be difficult to straddle the line between too casual and too formal. Our approach is to keep things simple but add one or more subtle accents to give the table a slightly more upscale look.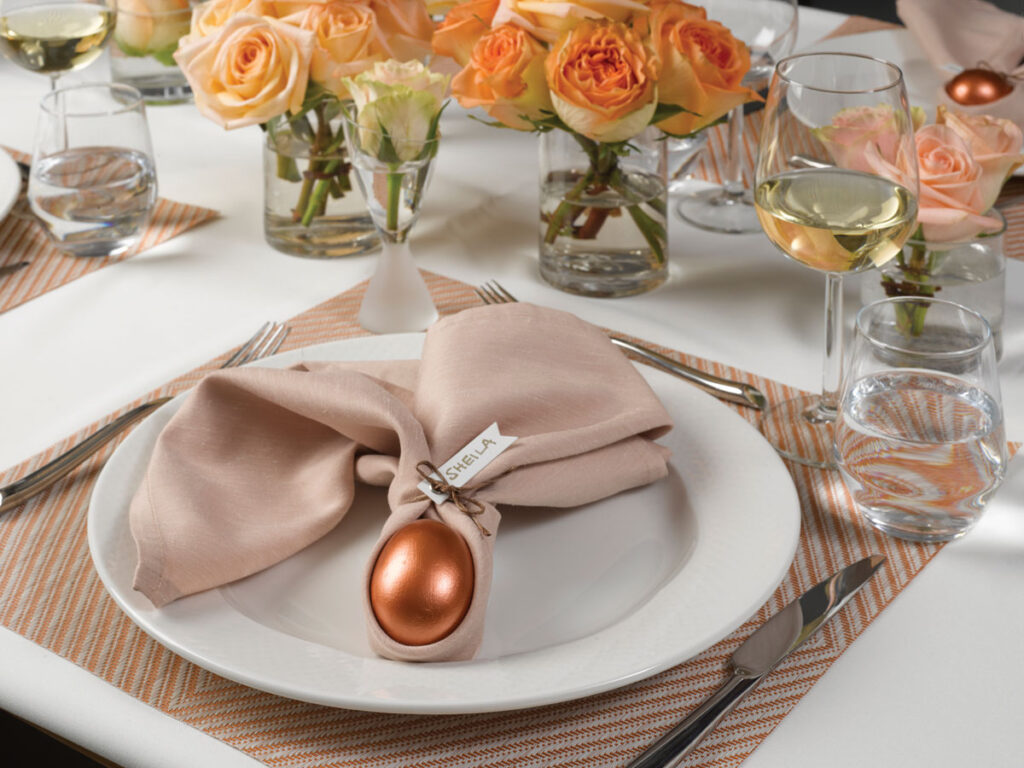 Start with a crisp white tablecloth, adding light accents of beige and pink. Beige placemats, along with simple flatware and plain white plates, do a great job of keeping your table well-balanced. Light florals, like pale pink and light peach roses set in small bunches, can really bring a touch of elegance to your table's overall aesthetic without adding too much formality.
If you're looking for a chic way to make the table a bit more special, you can always add place cards that immediately bring things up a notch. We suggest a cute napkin tied with string or ribbon featuring a painted egg and name card to personalize the table setting.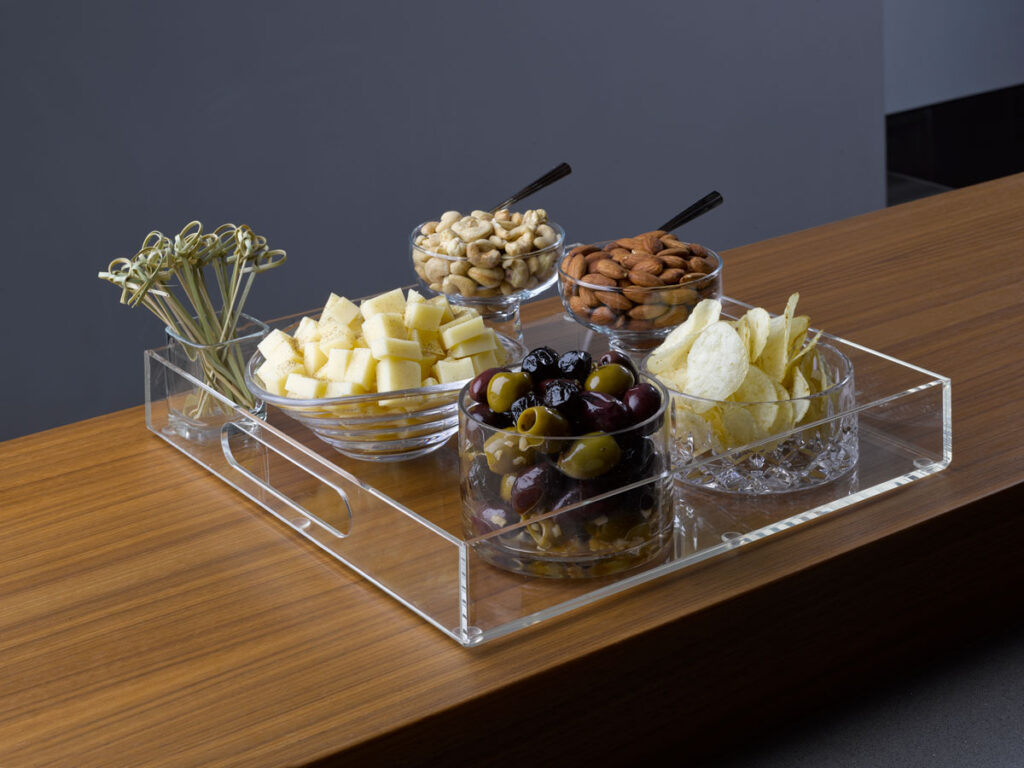 As our guests begin to settle in and grab their drinks they will have the opportunity to nibble on snacks like mixed nuts, marinated olives, salted chips and our seasoned Emmental cubes, each presented in small bowls of varying sizes. Each of these self-serve snacks helps tide our guests over before we sit for dinner.
Since roast chicken can be a heavy meal, we like to start with a smaller appetizer before serving the main course. Vichyssoise soup – a chilled potato, leak and onion soup – is a delicious alternative to more traditional appetizers, and bridges the gap between the cocktail hour snacks from earlier and the main course being served next.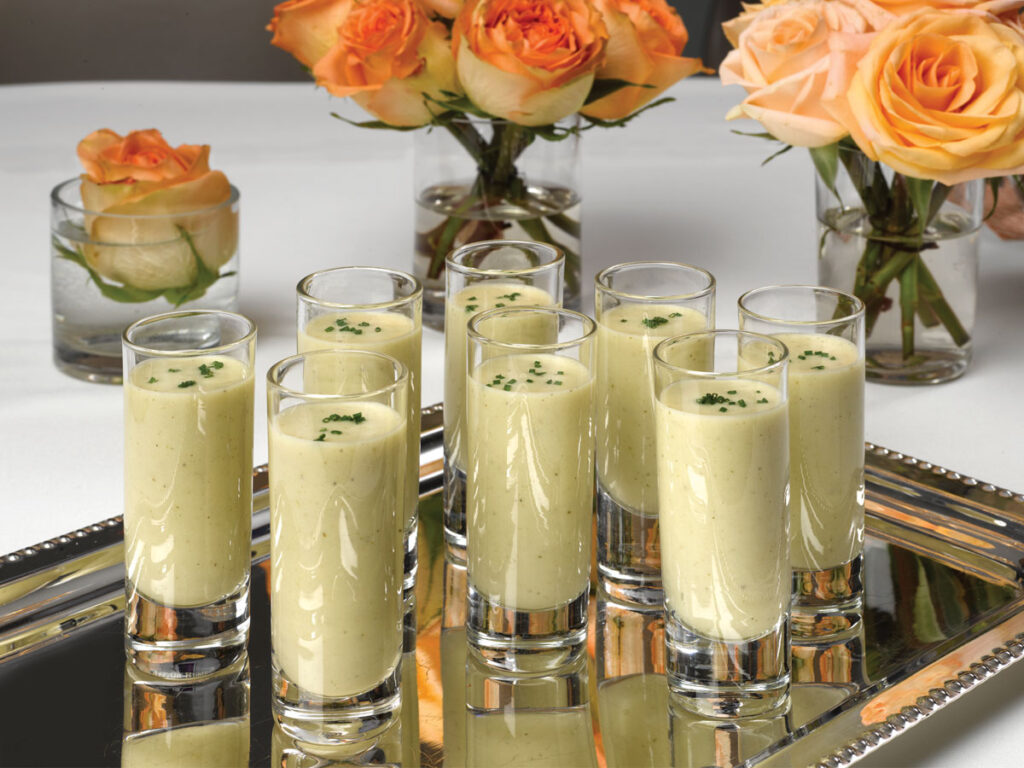 While some may decide to serve this appetizer more traditionally in bowls or cups, we like to serve it in tall shot glasses for easy consumption and cleanup. To save yourself time the day of your dinner, you can make the Vichyssoise a couple of days in advance, but when serving the shooters be sure to top the glasses off with a bit of cream before sprinkling a garnish of chopped chives.
A roast chicken dinner wouldn't be complete without a variety of side dishes. Some of our favourites include Cauliflower Gratin, Brown Butter Carrots and, of course, Sheila's famous Patates.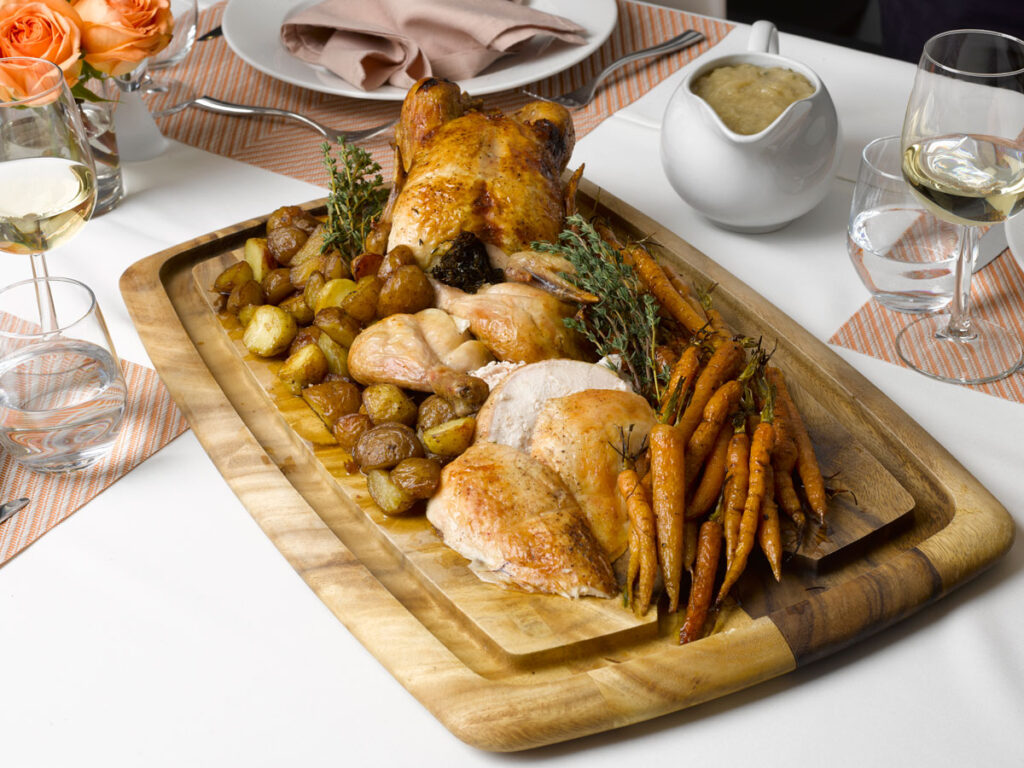 Next, we get into our main course. Instead of individually plating each portion of roast chicken along with its side dishes, we recommend serving everything family style as it's less demanding on the hosts and allows guests to choose the quantity of each dish themselves based on their personal preference. It also makes helping yourself to seconds less awkward!
With a family-style meal, it's important to think about positioning when you bring your main course and sides to the table. Some simple planning before your guests arrive can help ensure there is space allocated to each dish, and the table doesn't feel overcrowded.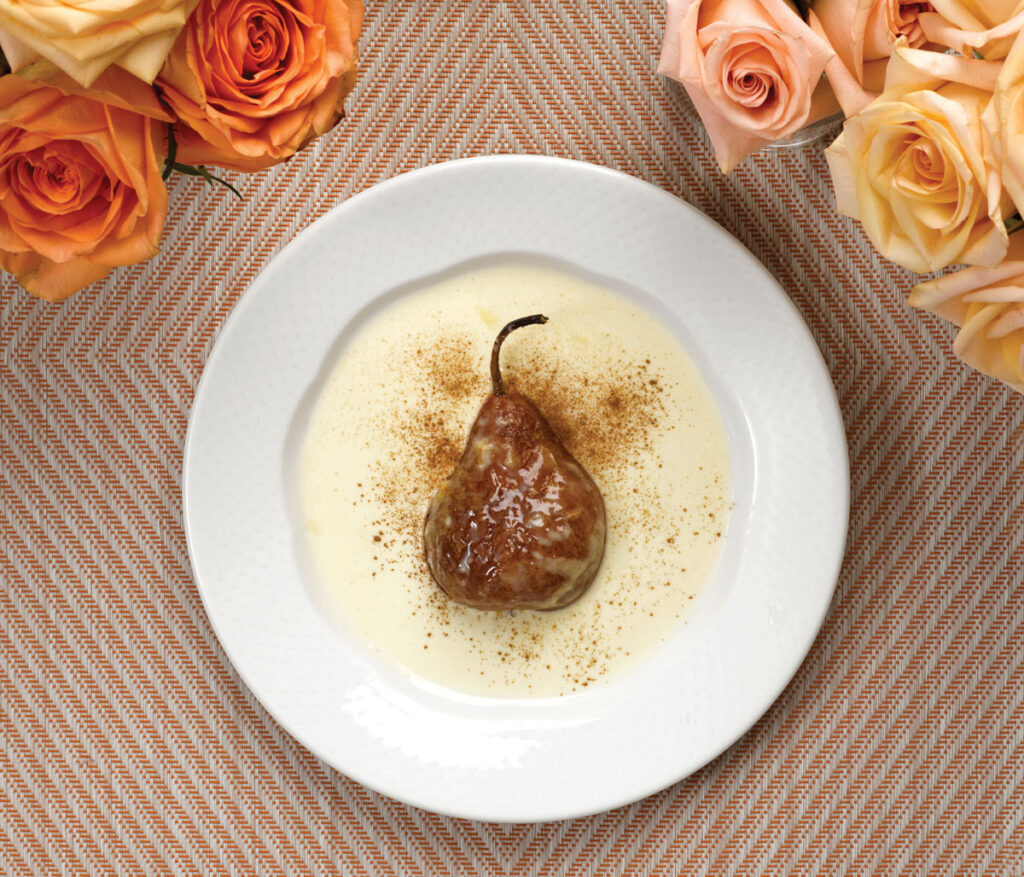 For dessert we are serving creamy baked pears – a delicious and infrequently used recipe that is sure to have your guests asking for more – baked and topped with butter and sugar. You'll be hard-pressed to find someone that can't find room for this delicious dessert, even with a stomach full of roast chicken!
As guests begin to arrive, we like to welcome them with a fun and theme-suited cocktail. For the roast chicken dinner, we are serving a bourbon grapefruit cocktail with grapefruit garnish. This cocktail is extremely easy to make and pairs beautifully with the small appetizers your guests will nibble on before dinner.
For guests who don't consume alcohol, we suggest offering a non-alcoholic grapefruit spritzer with garnish. Like the bourbon grapefruit cocktail mentioned above, it's an easy drink to make and can be served as a batch mocktail as well.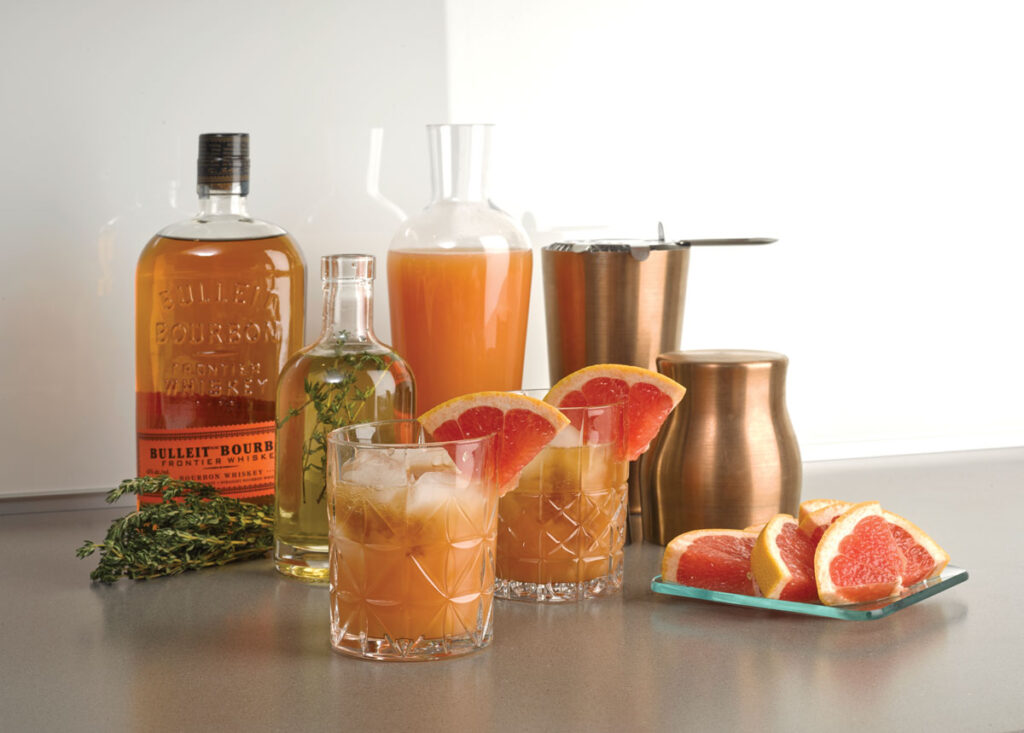 Since eventually we will be moving to wines with dinner, our suggestion is to pick your favourite white and red wine, since either is well suited to roast chicken. And of course, water is always on the table, and since bottled water is going the way of the dinosaur, we've found that serving tap water in varying shapes and colours of bottles makes for an interesting conversation starter. We've used rosé bottles, vodka bottles and even antique decanters.
Tips & Trick – Seb & Sheila Say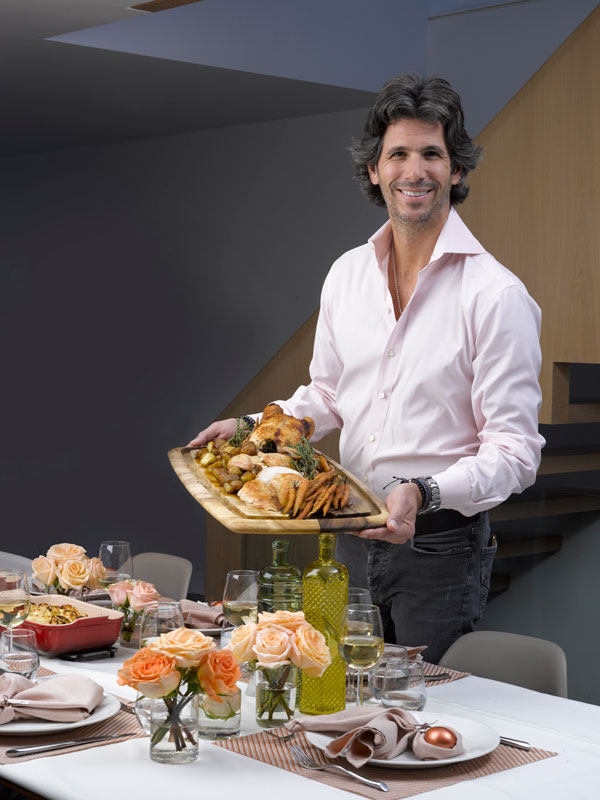 1) When hosting any type of meal served "family-style" (meaning on platters or with large sharing dishes), consider using an assortment of smaller vases for your florals. These smaller vases can easily be shifted or shuffled if you need extra table space to put the platters down.
2) We suggest you wait until the day before your dinner party to shop for florals, as you might find already opened roses on sale!
3) For snacks like olives and Emmental cubes, offer toothpicks for guests to easily enjoy – but also include a small empty vessel with one snapped toothpick that indicates where your guests can discard used toothpicks.
4) When planning out your table place empty platters, boards, and serving dishes on the table when you set it, then remove these before guests arrive – so when the dishes are eventually served you know exactly where they will fit.
5) If you're entertaining a large group and don't feel like pouring cocktails all night, set up a little cocktail station with a charming recipe card for easy self-service.
---
@sebcentner @sheilacentner @sebandsheila @eatertainment @appetite_randomhouse
Content from Eatertainment – Recipes and Ideas for Effortless Entertaining by Sebastien & Sheila Centner published by Appetite Penguin Random House and available at Indigo, Amazon, Barnes & Noble, etc – full list and links at sebandsheila.com/eatertainment-book